The UK Kidney Association is proud to be part of the global 25in25 initiative to save lives by changing the trajectory of heart failure
UKKA raises priority considerations of kidney disease in a bid to improve the outcomes and reduce deaths due to heart failure by 25% in the next 25 years
As malignant as some common cancers[i], heart failure is too often overlooked, yet it is the final endpoint of almost all cardiovascular diseases and many non-cardiovascular conditions
Earlier detection and diagnosis of common comorbidities such as kidney disease will change the disease trajectory and save lives
Experts from 45+ top health organisations from the UK, Europe, US and Canada united at the 25in25 Summit in London on 9th March to agree the priorities for reducing deaths due to heart failure by 25% in the next 25 years. It is becoming increasingly clear that there is significant scope for overlap in the management of patients with conditions that put them at risk of dying from heart failure and that these overlaps provide an opportunity for collaboration, innovation, and a holistic approach to care. 
Convened by the British Society for Heart Failure, the 25in25 Summit drew together those with a key role in diverting the course of the growing global heart failure epidemic. At the Summit, the UKKA asserted the importance of addressing kidney disease in this ambition to save lives.
A troubling (inter)national picture
Heart failure, caused by structural or functional abnormalities of the heart, is the final endpoint of almost all cardiovascular diseases and many non-cardiovascular conditions such as kidney disease.
People with heart failure typically have one or more comorbidities (meaning that more than one disease or condition is present in the same person, at the same time). 98% of those diagnosed with heart failure in the UK live with at least one other long-term condition, such as diabetes and kidney disease[vi]. Coronary artery disease and high blood pressure are two of the most common precursor conditions[vii]. From epidemiology to pathophysiology, there are overlaps with many other organ systems and clinical specialities.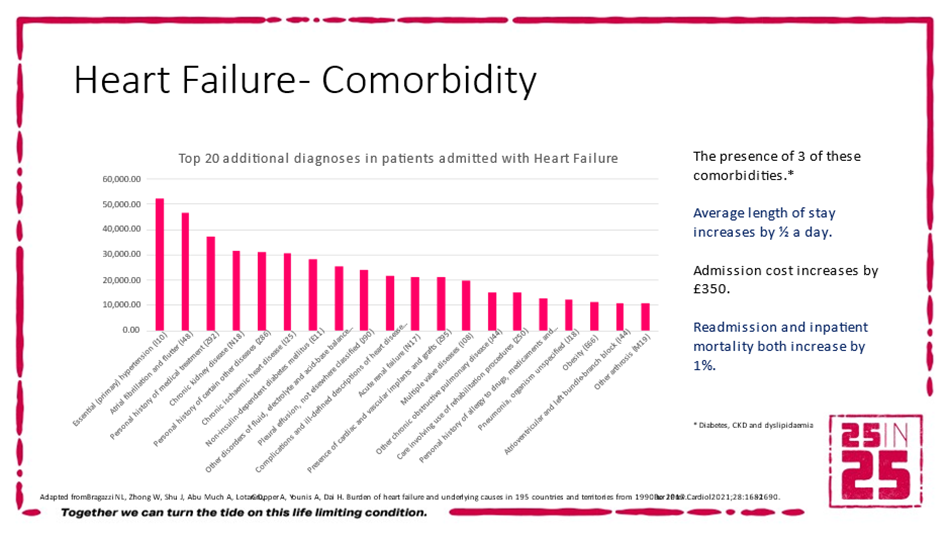 The need for action
Heart failure currently takes up 2% of the entire NHS budget.
The human and economic costs are huge.
Currently, in the UK, 80% of heart failure is diagnosed in hospital where 40% of people had symptoms that should have triggered an earlier assessment in primary care in the months prior[viii]. In the UK alone, reducing deaths due to heart failure in the first year after diagnosis by 25% in the next 25 years, would mean 5 fewer deaths for every 100 newly diagnosed heart failure patients every year, translating to over 10,000 lives saved annually.

---
[i] https://www.bmj.com/content/357/bmj.j2179 Accessed 4Mar23
[ii] GBD 2017 Disease and Injury Incidence and Prevalence Collaborators Global, regional, and national incidence, prevalence, and years lived with disability for 354 diseases and injuries for 195 countries and territories, 1990–2017: a systematic analysis for the Global Burden of Disease Study 2017 Lancet 2018 ;392 :1789–1858 (Accessed 28.02.23)
[iii] 2Lippi, G. and Sanchis-Gomar, F., 2020. Global epidemiology and future trends of heart failure. AME Med J, 5(15), pp.1-6. (Accessed 28.02.23)
[iv] 2Lippi, G. and Sanchis-Gomar, F., 2020. Global epidemiology and future trends of heart failure. AME Med J, 5(15), pp.1-6. (Accessed 28.02.23)
[v]https://www.ons.gov.uk/peoplepopulationandcommunity/populationandmigration/populationprojections/datasets/clinicalcommissioninggroupsinenglandtable3 Accessed 4Mar23
[vi] British Heart Foundation, Heart Failure: a blueprint for change, October 2020
[vii] NHS England, End of life care in heart failure A framework for implementation, October 2014
[viii] https://www.nice.org.uk/about/what-we-do/into-practice/measuring-the-use-of-nice-guidance/impact-of-our-guidance/nice-impact-cardiovascular-disease-management Accessed 28Feb23