Here at the UK Renal Registry (UKRR), we recognise that a lot of people have contributed to the work that we do, freely giving their own time and with very little direct recognition.
In 2013, a new award was created, the 'Terry Feest' award, in recognition of the contribution made by Terry, not only in the early days in helping set up the UKRR, but also more recently up until his retirement.
The 2020 Terry Feest Award was presented to Nick Selby by Maarten Taal.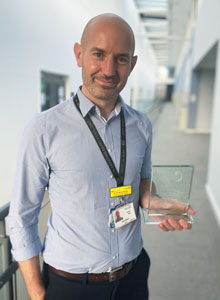 Previous winners
2013    Dr Afzal Chaudhry, Cambridge
2014    Dr Andrew Williams, Swansea
2015    Prof Paul Roderick, Southampton
2016    Dr Malcolm Lewis, Manchester
2017    Mr Nick Jones, AGILOAK LLC
2018    Mrs Denny Abbott, Patients Council             
2019    Prof Dorothea Nitsch, London
2020    Prof Nick Selby, Nottingham