---
We are excited to announce that UK Kidney Week 2022 will take place from the 7-9 of June at the Hilton Birmingham Metropole. 
This will be a hybrid conference and is the largest multi-disciplinary event of its kind in the UK. 
UKKW 2022 will include up-to-date research, state-of-the-art lectures, educational sessions, industry partnership programmes and networking with clinicians, academics, scientists, kidney charities and trainees, and is a fantastic example of collaboration throughout the kidney community. 
---
ABSTRACTS
Abstract submission opens: Tuesday, 21st December 2021
Abstract submission closes: Monday, February 7 2022
Epidemiology, public health and prevention

Diagnostics

Genetic and rare diseases

GN

Cardiovascular disease and diabetes

AKI

CKD

Transplantation

Service delivery

Quality improvement

Research

Haemodialysis

Service delivery

Quality improvement

Research

Home therapies

Service delivery

Quality improvement

Research

Vascular access

End of life and palliative care

Paediatrics

Transitional and young adult care

Behavioural, psychological and quality of life

Patient outcome and experience

Patient and public involvement

Patient education

Rehabilitation, exercise and lifestyle

Renal nutrition

Pharmacology, medicines management including anaemia and MBD

Staff education

COVID-19 including vaccination

Case reports

Other
ABSTRACT SUBMISSION GUIDELINES
SESSION PROPOSALS
The UKKW22 Programme Committee is inviting proposals for sessions and mini-symposia to be held at UKKW 2022 in Birmingham.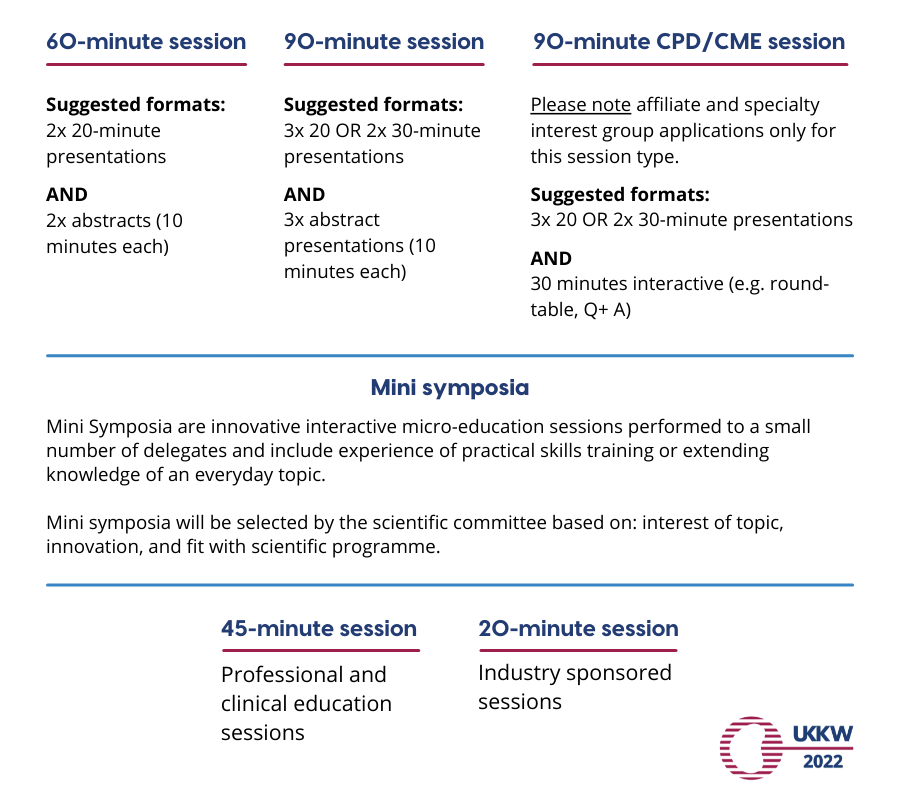 Deadline for submission: Monday, January 24 2022
DEADLINE EXTENDED: Monday, January 31 2022
We expect a gender-balanced panel of speakers and that you will have considered the diversity of these individuals.
We encourage applicants to collaborate with trainees, affiliate and special interest groups to create session proposals to attract a wider audience to attend.
Overseas speakers may be proposed to present virtually.
Please note that a proposal is not guarantee of acceptance; sessions will be organised to ensure balance of the overall meeting. If there are sessions that cover a similar topic, sessions may be merged.
The programme committee will make the final decision and if accepted, a member of the committee will be nominated to help develop the session. The committee members are also happy to help you develop the proposal before you submit it. Session chairs will be sought after proposals have been selected.
ABSTRACT MARKING
On behalf of the UK Kidney Week 2022 conference committee, you are invited to be part of our abstract reviewing panel. If you are able to help us with this important task, please use the link below to let us know which topics you would be willing to mark abstracts in by Monday 31st January. You may be asked to mark up to 15 abstracts but we will try to only allocate you to one category in order to keep the number of abstracts you mark to a minimum. The closing date for abstracts will be Monday 7th February and they will be available for marking w/c 21st February. The deadline for marking will be 14th March. All abstract reviews and marking will be done online.
Deadline for submission: Monday, January 31 2022