The Welsh Renal Network collaborate to provide calm, accurate and consistent messaging about COVID to people living with kidney disease in Wales
Susan Spence, Welsh Renal Clinical Network Manager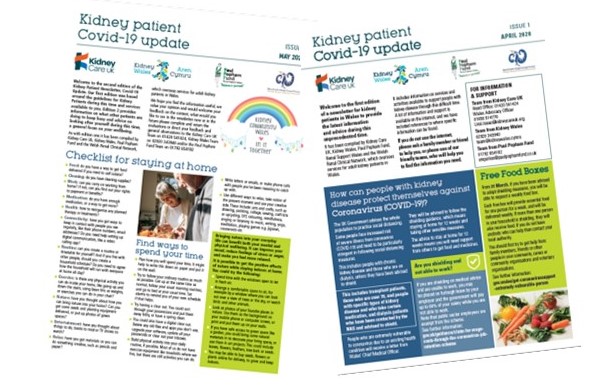 What we did
As the extent of Covid pandemic became clear and particularly in relation to the vulnerability of dialysis patients reliant on unit based dialysis, the Welsh Renal Clinical Network (WRCN) and partners collectively recognised the need to ensure that patients received calm, accurate and consistent messaging. Acknowledging that not all patients are comfortable with accessing social media outlets, a small team drawn from each of the partner organisations worked, virtually, to develop a series of newsletters that are aimed at being both informative and reassuring. The newsletters are distributed across Wales by the unit managers directly to the patients to read whilst on dialysis and take home with them as a reference document.
Who was involved in the collaboration?
The Welsh Renal Clinical Network (WRCN) has a long history of collaboration with Kidney Charities in Wales and the three main charities, Kidney Wales, Kidney Care UK and the Paul Popham Fund are represented as standing members of the WRCN Board. In addition, the contribution of research provided by the Welsh Kidney Research Unit (WKRU) to the commissioning decisions of the WRCN Board is highly valued, as is the clear focus on health and well-being of patients, provided to the Board via the Health and Wellbeing Professionals Reference Group (H&WB PRG) which represents renal Allied Health Professionals, Social Work and Psychology.
Working Group:
Judith Stone, Managing Director, Kidney Wales (and renal patient)
Joanne Popham, CEO, Paul Popham Fund (and care giver to renal patient)
Linzi Isaac, Patient Support and Advocacy Officer, KidneyCare UK (and care giver to renal patient)
Dr Leah McLaughlin, Researcher Health and Social Care, Welsh Kidney Research Unit
Caron Jones, Renal Social Worker and Chair of the H&WB PRG
Gail Williams, Lead Nurse, WRCN
Susan Spence, Network Manager, WRCN
The outcome
The newsletters are available on social media platforms, but feedback from patients in relation to the hard copy versions has been really positive. It has also been noted that the unit staff have really valued the newsletters as well as it provides an opportunity to interact with patients to support their overall health and wellbeing. A full evaluation will be undertaken as soon as there is an opportunity to do so.
Author's name and contact details and any links for more information about your QI project
Susan Spence, Welsh Renal Clinical Network Manager Susan.Spence@wales.nhs.uk