Mobile blood testing service
Dr Kate Bramham, Clinical Senior Lecturer and Honorary Consultant Nephrologist. Kings College Hospital NHS Foundation Trust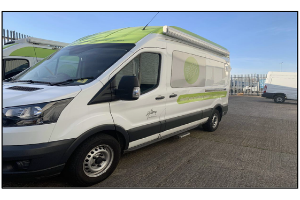 In order to reduce the need for patients to visit the hospital during the COVID-19 pandemic, we set up a mobile phlebotomy service for kidney patients at Kings.
We initially contacted a local church charity who used medical vans for their work with homeless people, and they offered us the use of their vans for free. 
We approached the local velodrome and had a team of cyclists who would collect the vans from the church, pick up the staff at King's and drive out to different sites each day, and then they would cycle home! 
We staffed the service using the renal research team who contacted patients, booked them in, provided the phlebotomy service and liaised with clinicians to inform them when bloods had been taken (or DNA) so that they could check the results.
The blood testing clinic will minimise risk of COVID19 (coronavirus) spread including:
All staff will use protective clothing for each patient
Patients will wait in their car until they are called by the team for their test
We used a text messaging service so that patients could inform the team of their arrival, and were called when the clinic team were ready to carry out the blood test.
We are now moving towards a more sustainable model with St John's Ambulance and Viapath phlebotomy staff, and are planning on using renal outpatient administration support. 
We have mapped out the postcodes of all outpatients and plan to approach some new sites to ensure the whole region is covered.  
Community phlebotomy information sheet for patients
Author's name and contact details and any links for more information about your QI project
Dr Kate Bramham, Clinical Senior Lecturer and Honorary Consultant Nephrologist, Kings College Hospital NHS Foundation Trust