Kidney Services: Improving at scale
Overall purpose of the report
Kidney services have been actively leading on quality improvement for over 20 years. This report presents the collected learning from three Health Foundation funded programmes that scaled-up interventions.
These were:
Tackling Acute Kidney Injury
ASSIST-CKD (a programme to spread eGFR graph surveillance for the early identification, support and treatment of people with progressive chronic kidney disease)
SHAREHD (enabling self-management and shared haemodialysis care in hospital-based dialysis).
In addition, the report draws on learning about patient co-production from the NHS England funded Transforming Participation in Chronic Kidney Disease project.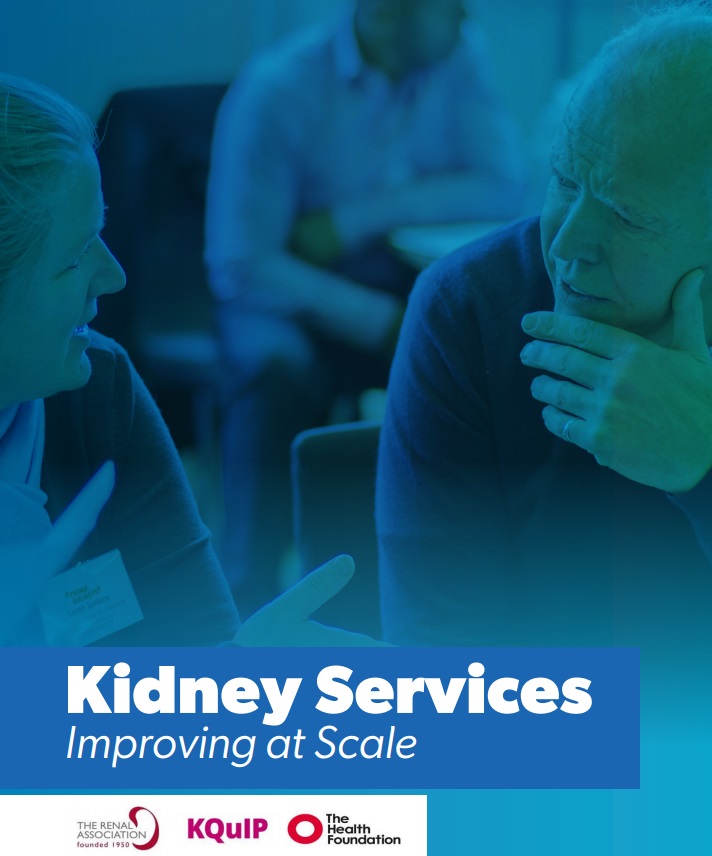 Basic design of the report
Individual programme reports were compared to see what common themes emerged and these were then prioritised through interviews with key stakeholders. The report was produced by working with each of the contributory teams supported closely by quality improvement experts and was completed in conjunction with the Kidney Quality Improvement Partnership.
Major findings
The report identifies five factors which are key to the successful scaling up of an intervention:
 Defining the intervention by determining which aspects should be fixed and which could be adapted as part of local adoption. This requires a clear understanding of why each aspect is important and how best to implement them.
Assessing teams' level of quality improvement expertise and readiness and selecting a quality improvement method that is consistent with their experience, knowledge and ways of working.
Developing a clear evaluation plan at the outset and mechanisms to feed the learning into the programme as it progresses.
Involving patients from the design stage and providing clear role descriptions and adaptable mechanisms to maximise opportunities for engagement.
Ensuring that there is expert programme management capacity in place to hold the programme to account to ensure delivery to time and target. Equally important is a readiness within the team to listen, learn and adapt in order to allow problems to be anticipated and overcome.